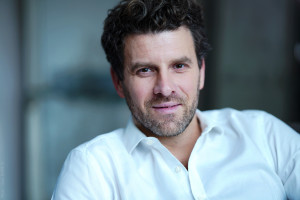 Author, Director, Multidisciplinary interpreter
DLAMDA School in London with Honours, Guillaume continued his theatrical training at the Conservatoire d'arts dramatiques d'Orléans under the direction of Jean-Claude Cotillard. Il y rencontre Olivier Py dont il devient stagiaire à l'assistance mise en scène sur « Le Soulier de Satin ». Thereafter, he joined the Théâtre du Lierre company as an actor / singer and plays in "Salina" by Laurent Gaudé, « Noces de Sang » de F. Garcia Lorca and Ferdowsi's Triptych "Rostam and Sorâb" under the direction of Farid Paya. We find him in "Ben Hur" directed by Robert Hossein, "King Gordogane" by Radovan Ivsic directed by Magali Serra, "Gertrude or the Scream" by Howard Barker (Hamlet) directed by Günther Leschnik (Company Le Théâtre du Corbeau Blanc).
IHe met Philippe Calvario and assisted him in the staging of Mayenburg's "Parasites" at the Théâtre des Amandiers in Nanterre.
A New York, il reçoit une formation sur la technique Meisner à l'Acting Studio. Rich in these experiences, he joined the Casalibus company as an artistic collaborator and actor/singer for the show "Un Mahâbhârata" directed by Vincianne Regattieri and played Romeo in "Romeo et Juliet" which won the 1st prize at the Anger Festival 2012.
En as a singer he performs in "Le Cabaret Extraordinaire" which he stages with the professors of the Conservatory of Gennevilliers and in "Le Grand Carnaval de Gennevilliers" 2019 ».
Awithin the Helioseselé Company of which he is the founder, he directed "Maeterlinck's L'Oiseau Bleu" for the European Orpheus Festival, "Le Bal des Chimères" in the Salons of the Hôtel de Ville de Paris and "L'Imaginarium ou l'Attrape-Rêve" at the Fratellini Academy with more than 200 Autistic. Anxious to transmit, He has been leading educational workshops for young people with disabilities and amateur adults since soon 10 ans.
Il features the lyric artist Estelle Michaux in her recital "Aquatic" during the Festival de Loire 2019 in Orleans and Madame Arthur's creatures at the Divan du Monde in 2020. Currently, he plays and sings in the street show "Culture en détresse" written and directed by Ani Hamel.
En as author, he signs an adaptation of "A Midsummer Night's Dream" in Rock Opera, "Wendy and Neverland" (Théâtre Jacques Brel de Fontenay/s/Bois 2015/ 18) and the text of "The Dreamcatcher" (Académie Fratellini 2018). He now questions the concept of family and filiation by creating a single stage SPIRULINA as well as the show for young audiences NOSHI and ZORRITO which will be in creative residency at Studio Virecourt in March/April 2022.
A The image, we find him in Diabolique by Gabriel Aglion where he plays the role of a judicial officer, in various short films and commercials.